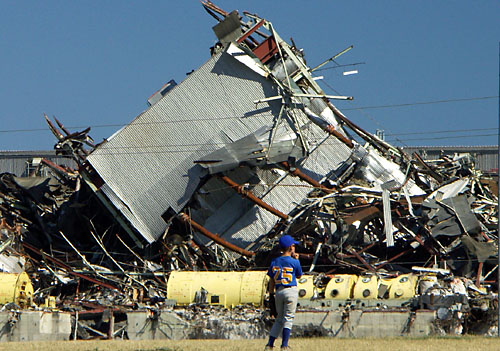 Last month's foray into a Chernobylesque landscape came courtesy of the Portlands Energy Centre near the Leslie Street Spit. Today's comes from a visit on Saturday to the demolished Lakeview Generating Station in Mississauga, where baseball games in the nearby Lakeview Park are conducted in front of a rather surreal backdrop. Business as usual on one side of the chainlink fence, chaos and destruction on the other.
The piles of rubble from the demolition still loom over everything else within sight, completely dominating the landscape every bit as much as the station did when it was still standing. I guess the cleanup is going to take a while yet.
I look forward to the day when the PEC looks like this. Mississaugans, many of whom waited years to see Lakeview look like this, may soon be looking forward to the day when Lakeview's rumoured replacement is demolished too.