My co-workers and I headed up to Vaughan for a day of funteam-building exercise at Canada's Wonderland last week. Like all kids in the '80s, I used to go to Canada's Wonderland every year—but always by bus or car. But now that Canada's Wonderland is surrounded by suburbs rather than farm fields, I thought that maybe I should ride my bike up there, through the city all the way. Everyone I mentioned my plan to thought I was crazy. "They don't like bikes up there," was the typical response, usually accompanied by a slow head shake as if they were warning me to stay out of a rowdy bar. But hey, if I can't ride to the rides, I don't want to go. Besides, I regularly ride the mean roads of suburbia when I go on long-distance rides out of the city. Still, this felt different. I needed a bit of planning.
So I started with an email to Canada's Wonderland customer service:
Hi,
Do you have any bicycle parking?
Val
The response came a couple of days later:
Hello Val,
Thank you for contacting Canada's Wonderland. Unfortunately, we do not offer bicycle racks to lock your bike with.
I hope this helps, please do not hesitate to contact us again.
Well, no, it doesn't help. Not at all. So I replied:
Seriously? One-third of the park is given over to a parking lot for cars and there isn't a single bike rack there somewhere?
I didn't receive another response. Well, this isn't off to a good start.
But as with many things, It's Google to the rescue: Street View goes right into the park! I started looking for bike racks and found one just outside the main gate: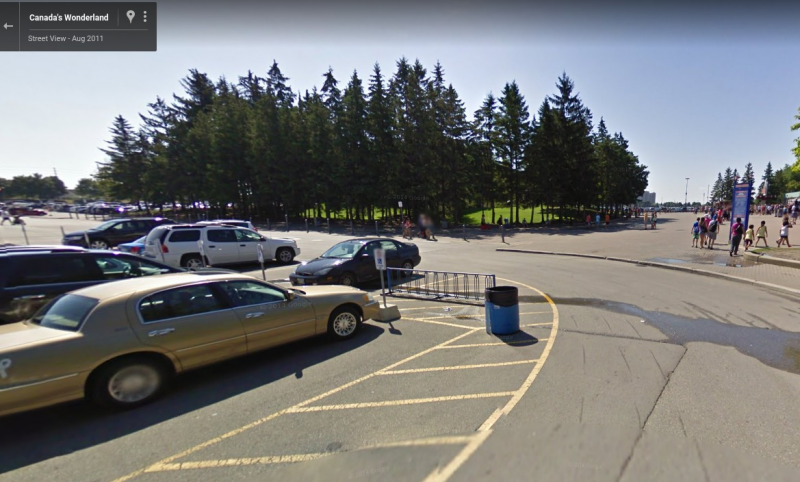 The only problem? The Street View was taken in 2011 and this particular spot is now consumed by supports for a giant roller coaster—a leviathan, if you will—that spills out into the parking lot: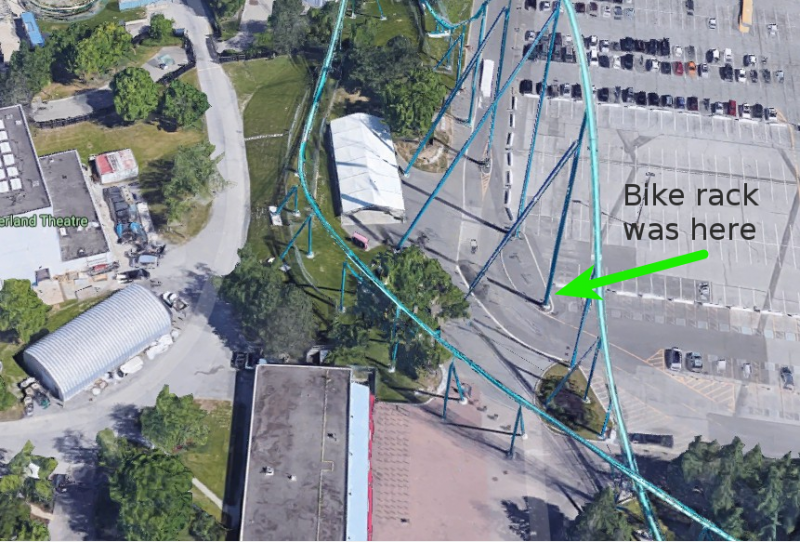 Huh. Maybe customer service was telling the truth. I mean, it didn't look like the bike rack was all that well used in 2011, and if they put a support post right through the spot that hosted said rack, they may not have replaced it. But wait just a second! If you zoom in as far as you can, you can sort of see the faint outline of not one, but two bike racks between the support posts, each with a lonely bike hanging off it: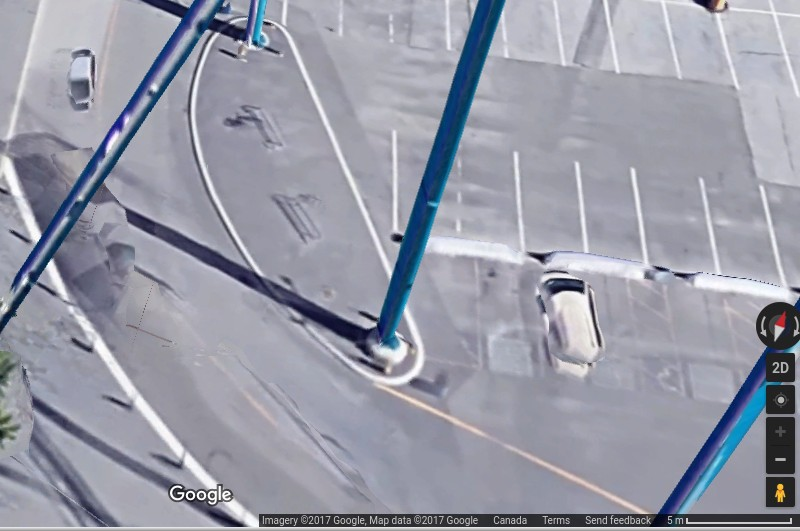 All right, it looks like we're back on! I loaded up directions in Google Maps, finessed it a bit for my preferences, and loaded this relatively direct yet incredibly twisty route into my GPS:
After all of the warnings from friends and family, after the assurance from customer service that I wouldn't find a bike rack, and after the satellite-fuelled research, I set out on a sunny morning last week to meet my teammates at the theme parkconference center for our day of thrill ridesimportant meetings.
And you know what? The ride was actually really nice! A surprisingly large portion of the route north of the 401 is on trails through parks. By far the worst part was riding on Bayview between Lawrence and York Mills, a stretch of road I'm all too familiar with. Even the relatively short ride along car-friendly highway Rutherford Rd in Vaughan wasn't bad in comparison. The only glitch I encountered was some construction that closed part of the bike trail, forcing me out onto Dufferin to get past the 407. There's a beautiful bike lane on Dufferin north of Steeles that, sadly, ends just when it would be most useful: crossing the 407.
And so, less than two hours after setting out from Broadview & Danforth, I rode past Maple High School and into the parking lot at Canada's Wonderland where the bike racks were exactly where Google Maps said they would be: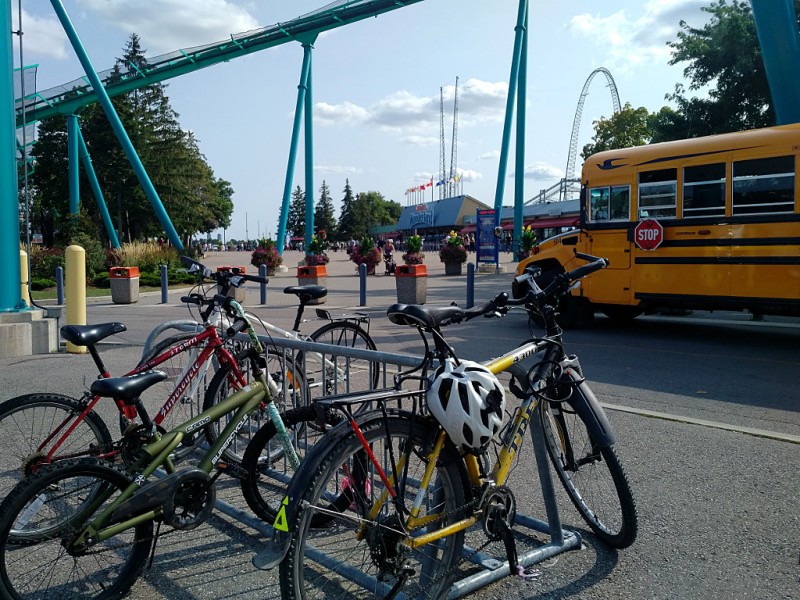 Would I do it again? Absolutely! It's no worse than any other ride out of the city, and the joy of riding through a gargantuan parking lot to my—free!—parking right beside the entrance is always one of the joys of cycling to a destination. That said, the ride reinforced a long-standing problem with cycling infrastructure in and around Toronto: the optimum route is so hopelessly convoluted that you couldn't hope to follow it without a good GPS and/or mapping app. If you want to get there in a car, you can just hop on the 400 and follow the signs; wouldn't it be great if there was a signed route from the Finch hydro corridor to Canada's Wonderland? The route is already there; now we just need the signs. Instead, you're left cycling on a dead-end street, hoping that the GPS is right and there's a trail at the end (there always was). Or assuming that the barely-visible gravel path beside the driveway actually goes somewhere (it did). As good as the ride was, it shouldn't take so much effort to figure it out and keep track of it while you're on the go.