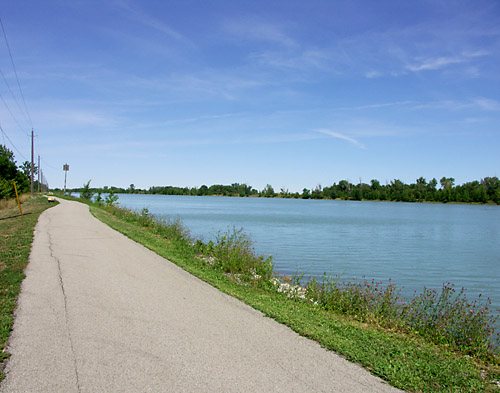 Well, I did it. As I'd threatened to do earlier this year, and just four weeks after reiterating my vow, I rode back home to Toronto after taking the Bike Train to Niagara Falls.
As on my previous Bike Train adventure with Risa, the ride to Niagara was a joy. We were a little late leaving Union Station and about 45 minutes late arriving at Niagara Falls, but it was still better than driving. Especially when I looked out the window between naps and saw the stop-and-go traffic on the QEW.
From my perspective as a two-time rider, the Bike Train has been a resounding success. VIA Rail and the other partners are seriously stupid if they don't expand the program next year, running more frequently and to more destinations. And don't make Bike Train founder Justin Lafontaine load and unload the bikes at Niagara Falls any more!
Ride Details
I'd originally planned to ride from the Niagara Falls train station to Niagara-on-the-Lake and follow the Waterfront Trail from the very beginning back to Toronto. But I decided earlier this week to cycle west to the Welland Canal and ride down the Welland Canal Trail to Port Weller before continuing along the Waterfront Trail to Toronto. Taking this road less travelled taught me three things:
Don't rely on a Garmin eTrex Vista Cx handheld GPS to properly auto-route for a bike. Although it offers "bicycle" as a vehicle choice (which will cause the auto-routing algorithm to avoid highways), it outright refused to show me a reasonable route taking me the 25 km from Niagara Falls to Port Weller. Instead, it insisted that I go the other way, heading into the U.S. before completely circumnavigating Lake Ontario twice on a 1660 km odyssey. Uh, I don't think so. Just to make the annoyance complete, the Vista happily directed me straight down the QEW for 15 minutes when I set the vehicle type to "car." Fortunately, I'd already planned my route and was able to follow the waypoints I'd set. I also had paper maps with me. Never rely solely on GPS in unfamiliar territory.
Signage outside the tourist areas in Niagara Region really sucks. Several times I blew past a planned turn and had to backtrack because there were no street signs at intersections. I'm not talking about minor dirt paths here either, I'm talking about major 4-lane regional roads. I eventually gave up and settled for heading in the general direction of my destination along whatever road I happened to be on.
Don't be fooled by the Niagara Region Bicycling Map's assurance of roads with bike lanes or paved shoulders. While there are many nice riding trails throughout the region, too many of the so-called bike lanes on roads between the Falls and the Welland Canal are barely more than a sewer grate wide. Most of them are not signed as bike lanes, although that's clearly their intended use. That said, traffic here was far less of a problem than on an average afternoon in Toronto.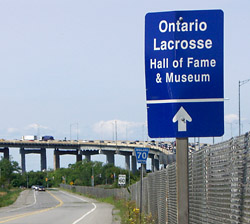 Although Niagara doesn't seem to sign many of the local streets, they take great pains to provide wayfinding signs for some of the local attractions, including this pointer to the Ontario Lacrosse Hall of Fame & Museum. Inductees include such Ontario lacrosse celebrities as veteran player Chuck Baldwin, the infamous Elmer "Milkshake" Lee, the colourfully-nicknamed James "Jim" Wasson, and the genuinely famous Jay Silverheels (best known as Tonto on TV's The Lone Ranger). What the sign doesn't say is that the Hall is in the same building as the slightly more touristy St. Catharines Museum at Lock 3 on the Welland Canal. Whether you're there to brush up on lacrosse history or to see some big lakers up close, you've come to the right spot.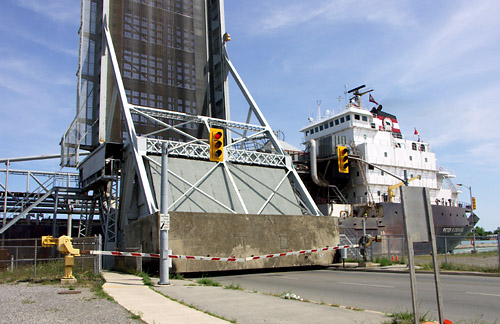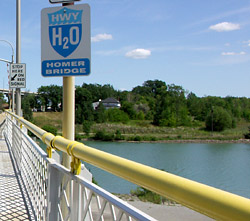 Keeping up with these eco-conscious times, the St. Lawrence Seaway has rebranded itself Highway H2O, an environmentally-friendly alternative to shipping by truck or rail. I'm all for it. Many people, especially tourists, probably see the Welland Canal and its ilk as being quaint relics from our distant past, not as thriving commercial highways, which is what they really are. Within Ontario, the perception is probably boosted by the primarily recreational use of our best-known canals, the Trent-Severn and the Rideau. But when you see one of those lakers passing by close enough for you to chat with the crew without raising your voice, you realize that this is still very much a working waterway.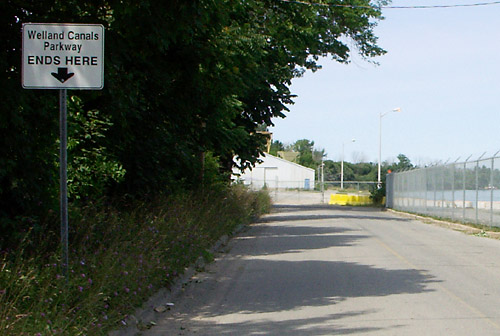 My ride along the canal to the Waterfront Trail ended unceremoniously with the termination of the Welland Canals Parkway in the parking lot of the Port Weller sewage treatment plant. I knew I should have taken that left turn at Albuquerque. I rode back up the hill and saw that I had indeed missed the obvious connection to the Waterfront Trail: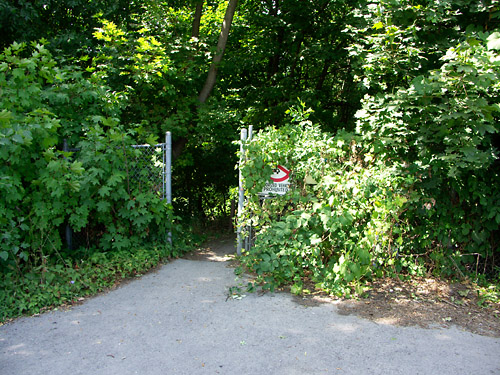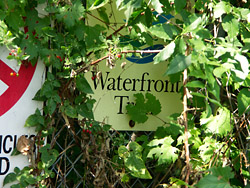 What do you mean you can't see the sign? It's right there, hidden behind a year's worth of natural regeneration. Little did I know that this was as good as the Waterfront Trail signage would get in Niagara Region. Just one minute away from this sign, another outright lies about where the trail goes. If you follow the sign, you end up right back in the parking lot where the Welland Canals Parkway ends. Upon seeing the sign pointing to your left, the proper course of action is to turn completely around and go back the way you came, following yet another trail out of the woods. Good to see that Toronto isn't the only place with wayfinding issues.
Toronto is also not alone in having a public works department with, shall we say, somewhat lax standards, as this speed bump in Port Weller shows: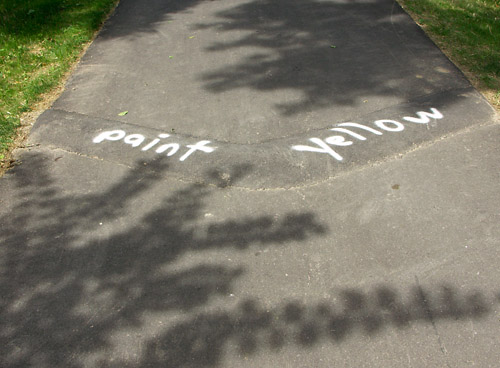 The funny thing is that it probably took longer to paint "paint yellow" on this speed bump than it would have taken to actually paint it yellow. That said, I wasn't sure whether this was an official field notice from one employee to another or a local protest against the lack of warnings on the speed bump. Either way, it almost certainly would have been simpler to haul out a bucket of yellow paint.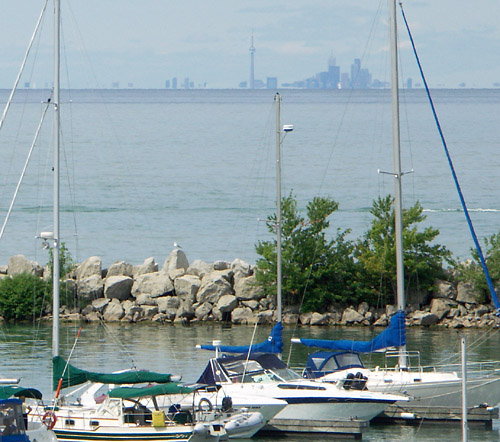 In Port Dalhousie, I noticed the emerald city beckoning from across the lake like a hazy mirage across an impassable desert. My house was only 53 km away from here as the crow flies, but I still needed to ride pretty far west before I could turn the corner to go north and then finally east. By the time I'd reached this point, and after at least a dozen missed turns, I'd all but given up trying to follow the Waterfront Trail and headed out of town on the most direct route possible.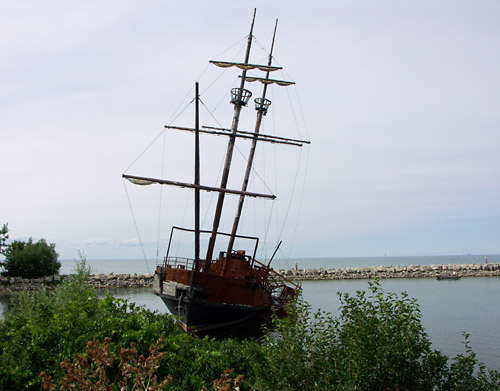 Just outside Jordan Harbour lies the infamous pirate ship visible from the QEW. Destroyed by fire five years ago, it used to be an explorer's dream.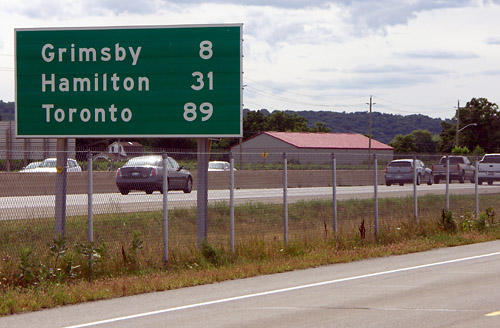 Having already ridden over 70 km, I found this sign a little discouraging. It's not that I wasn't expecting a long ride when I set out, but that I didn't expect giant highway countdown signs taunting me along the way.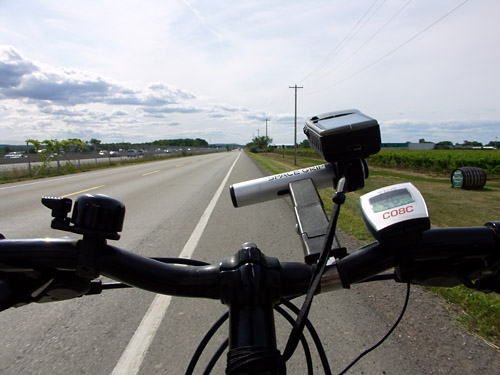 Most of the Waterfront Trail between St. Catharines and Hamilton runs along the QEW's relatively quiet North Service Road. It's nice enough as a direct, fast cycling route, and long stretches have wide bike lanes or paved shoulders. But after a while, riding beside the QEW gets boring. The whole point of riding out here is to escape the cars and the traffic, yet Ontario's original superhighway was just a chainlink fence away for almost two hours.
Much of this part of the ride is a study in contrasts: industry and six lanes of high speed traffic on the left, farms and vinyards on the right. But even out here, suburban sprawl is quickly encroaching on prime agricultural land.
By the time I reached Hamilton Beach under the Burlington Skyway around 6 p.m., the sun was getting low and I was more concerned with getting home at a reasonable hour than I was with taking pictures. You'll have to take my word that the Waterfront Trail through Hamilton and part of Burlington is a beautiful ride thorugh interesting parks with wide trails. I rode straight along Lakeshore Road through most of Burlington, Oakville, and Mississauga, hoping to make up some lost time and distance by not taking any of the offroad detours suggested by the trail. Maybe another day.
I continued along Lake Shore Blvd well into Etobicoke, ducking down to the Martin Goodman Trail near Humber Bay around 9 o'clock. The skyline (complete with pimped CN Tower) looked so welcoming (and so close, compared to the picture I'd taken six hours earlier) that I couldn't resist climbing off the bike for one last shot.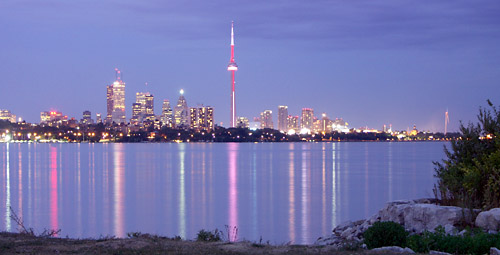 I arrived home about an hour later, sore but satisfied. Saturday's ride was a whopping 169 km, which makes it my first non-metric century and longest ride ever by over 40 km. In total, I was in the saddle for more than seven and a half hours over the course of nine hours on the clock. Two meal breaks, three snack breaks, a whole lot of picture breaks, and thirteen hours after leaving home for Union Station that morning, my adventure was complete. It's not quite the 300 km rides that others are chasing this summer, but it's more than enough for me and my trusty mountain bike.