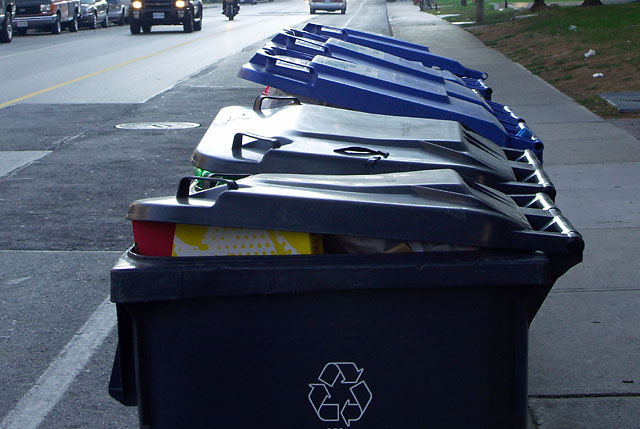 It's now week four of my quest for justice in the Cosburn bike lane. In previous weeks, I'd been bounced around in email and on the phone to various departments and units in my effort to deal with the recycling bins in the bike lane in front of 55 Cosburn Ave.
This week, I escalated my issue to the Waste Enforcement Investigations supervisor for the area, having received no responses to two emails and one voice mail the previous week. I spoke to her on Wednesday morning as I stood on the front lawn of 55 Cosburn Ave. Surprisingly, she said that an enforcement officer had spoken to the superintendent about the issue on Monday, two days earlier. She vowed to get another officer out there this week and said that the issue should be resolved for next week. So either the bins will be out of the bike lane next Wednesday or I'll be making some more early-morning phone calls. The most annoying thing about this entire situation is that I have to wait a week each time to see if anything has happened.
A couple of weeks ago, Shawn Micallef suggested that I call in the Fixer. I've thought about it, but I object to the idea that the only way to take care of this is to shine a big media spotlight on it. That said, I may yet do so if the situation drags on much longer. A part of me suspects that the city and the police would have been all over it after the first complaint if the bins were anywhere on the roadway but in the bike lane, and that bugs me even more. It shouldn't take four weeks to address an issue like this, but I'm semi-confident that I'll see some results next week.
I hope this meets your expectations for this week, poika.