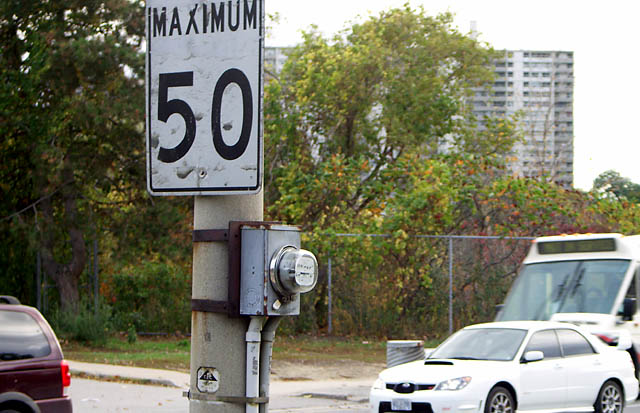 A few weeks ago, I wondered about the presence of electricity meters placed randomly around the city, measuring power consumption for, well, something or other. After noticing more and more of these as I rode and walked the city this spring and summer, I felt compelled to ask Toronto Hydro for more information.
They finally responded to my query earlier this week, going well beyond what I expected by sending a supervisor out to examine one of the mystery locations. He reported back that the meter on Overlea Boulevard near Don Mills Road (pictured above) is for the City's Works department, and is most likely hooked up to a sump pump in a chamber below street level. The same is probably true of another meter at Kingston Road & Celeste Drive that I'd asked about. This kind of installation is rather common.
Another mystery solved. I still think that my curiosity will eventually earn me a visit from some Men in Black, but I seem to have escaped that fate so far.
A version of this article originally appeared on Torontoist.