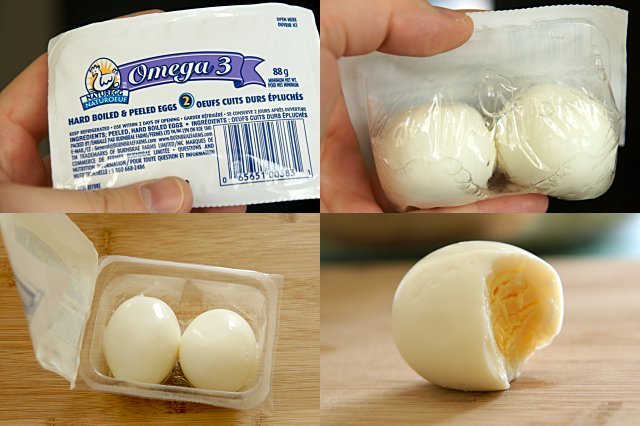 The first time I saw them in the supermarket, I was a little put off by the very thought of Naturegg hard-boiled eggs. I mean really, who needs to buy hard-boiled, peeled eggs at the supermarket? How lazy do you have to be? But the more I thought about it, the more I thought it wasn't such a bad idea after all. If you're the kind of person who likes to have an egg or two at lunch every day but just can't bring yourself to prepare a dozen ahead of time on Sunday night, you could do much worse in terms of a convenience food.
The package is nice enough when you look at the label, but picking it up is another matter. I don't know if you've ever held one of these, but let me assure you that holding two hard-boiled eggs in a small plastic bag feels a lot like holding a pair of testicles. The sensation doesn't exactly make it appetizing for me; of course, your mileage may vary. It doesn't help that eggs in a little bag are probably the saddest-looking food you'll see in the store.
Once removed the package, the eggs are fine. My pair was a little squished out of perfect egg shape, but otherwise looked, felt, and tasted just like Mom used to make. Better than homemade? Certainly easier, but not so much that I'd buy them again for the once in a blue moon that I'd use them. I just don't think it's so hard to boil and shell eggs that I'd want to keep a bag of these in the fridge.