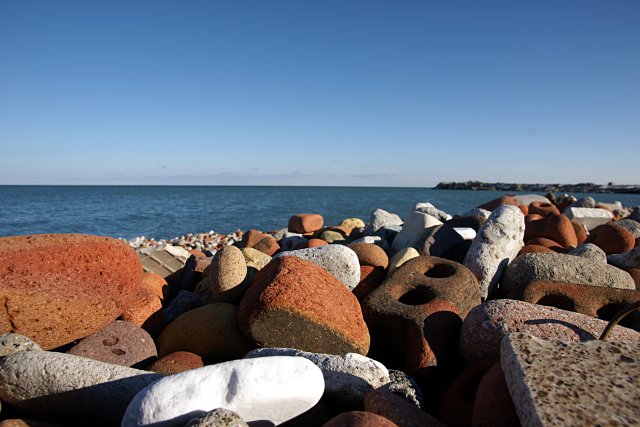 I usually start stretching my cycling legs around mid-March each year, getting ready for longer rides in the season ahead. Although I commuted and ran errands on my bike throughout this winter, I hadn't been out for any pleasure rides of significant distance since November. But when that sun starts melting the snow and the days start getting longer, the call of the road becomes too strong to resist. I don't care if it's still cold and windy outside; my legs want to spin.
The Leslie Street Spit is my most frequent late winter/early spring destination. It's one of the few car-free places in the city where you can ride at this time of year and not worry about dealing with snow and ice. It's also among the most photogenic destinations with a wider variety of landscapes than you'd expect of a long finger of dirt in the lake.
This beach, for example, is made almost entirely of bricks. The constant action of the water has worn away most of the corners so they look like colourful bars of soap. A few feet in from the shore, most bricks still have rough edges. They get smaller and smoother as they get closer to the water. At the water's edge, they look like colourful little pebbles. In a few years, this could look like just another sandy beach.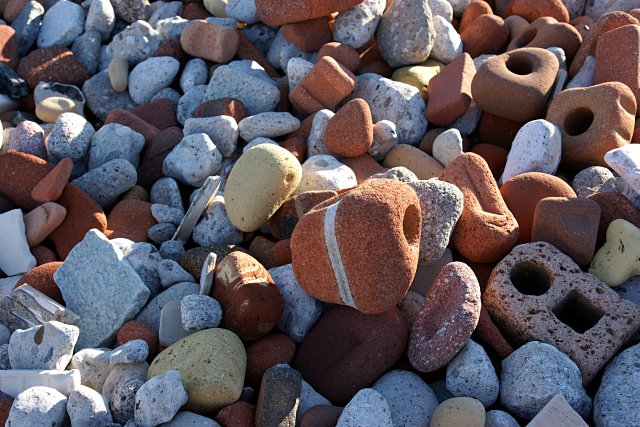 In the middle of this picture, you can see mortar still holding the remnants of two eroded bricks together.
I'll have more pictures from the Spit in the days ahead.