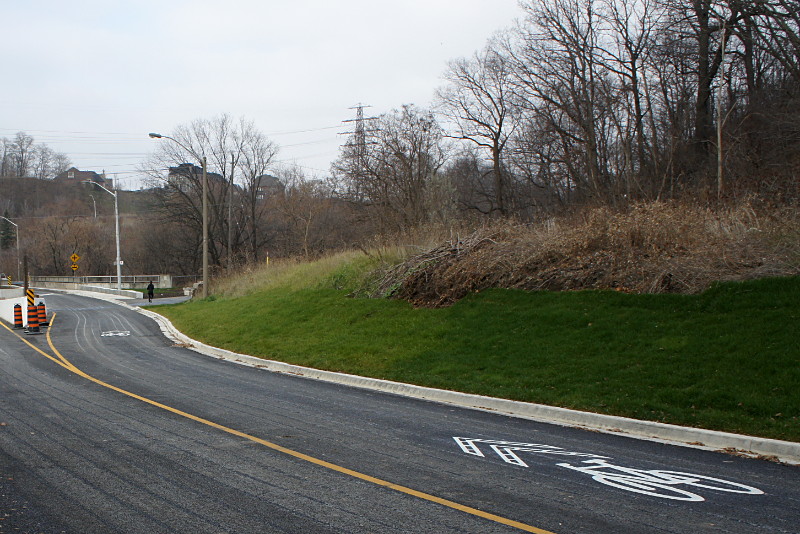 When Pottery Road re-opened at the end of November, cyclists and pedestrians rejoiced. So did drivers, but their joy was a little tempered. As a cyclist, I have nothing but praise (well, almost nothing but praise) for the outcome of the project, but I've heard a lot of complaints from drivers. Their concerns fall into two broad categories: why are these new traffic lanes so narrow, and what the hell are these bike symbols in the middle of the road? I first heard the former complaint from Risa, who drives down Pottery Road to work every day. I've since heard it from numerous others too. The latter complaint first came to the attention of Ward 29 Bikes via an email from a police officer who was recommending that the sharrows be removed because they confused motorists and encouraged cyclists to ride down the hill in the middle of the lane (which is kind of the whole point of them). He went on to explain that some motorists thought the sharrows indicated that they were driving in a bike lane. To get out of this supposed bike lane, they tried to do u-turns on the hill. I thought that was a joke when I first heard it, or at least an exaggeration to make some kind of anti-bike point. But after I heard the same thing elsewhere, I thought there might be a grain of truth in there after all.
My first instinct is always to cast aside such tales as just part of the general grumpiness that accompanies any cycling infrastructure in this town. But after giving it some thought, I realized that drivers probably do have a legitimate problem with sharrows: they have no idea what a sharrow is. Although sharrows are explained over and over again on the city's cycling website, in the city's cycling newsletters, and at public meetings about cycling infrastructure, those audiences always consist of cyclists. I couldn't recall sharrows ever being explained to drivers. Explanations aren't included when you renew your licence, there are no explanatory signs beside the road, and no one holds public meetings explaining new cycling infrastructure to motorists. Whenever a new stop sign or traffic light appears, a big "NEW" sign is placed somewhere in the block leading up to it. Bike lanes, HOV lanes, bus lanes, turning lanes, crosswalks, and even parking spots all come with accompanying overhead or roadside signs. In contrast, sharrows just appear out of nowhere without any explanation. That may be fine on streets like Wellesley where they form short connectors near intersections between sections of the bike lanes, but there is no similar context on Pottery Road, where they appear mysteriously at the top of the hill and disappear just as enigmatically at the bottom of the hill.
When you're inside the bubble of cycling information, it's easy to forget that the memo was never really sent to the general public. Unless you are relatively active in the cycling community or visit www.toronto.ca/cycling once in a while, you probably have no idea what a sharrow is or what it's supposed to indicate. What's needed here is driver education, not removal of the sharrows. Fortunately, as reported on OpenFile last week, the city will be putting up signs in the spring explaining the shared lane markings.
As for the narrow lanes, having driven up and down Pottery Road a few times myself, I agree that the lanes are narrower than they used to be. I could even be convinced to admit that I may feel a little crowded sharing the road with oncoming traffic between the retaining wall on one side and Jersey barrier on the other. And you know what? I don't really have a problem with that. The lanes are still more than wide enough for cars and trucks to find their way up and down the hill. Studies say that narrowing lanes causes car drivers to slow down and I don't have a problem with that, either. Speaking as a cyclist, pedestrian, and driver, anything that makes other drivers slow down a bit and think about driving safely is the kind of road improvement we need to see more often.