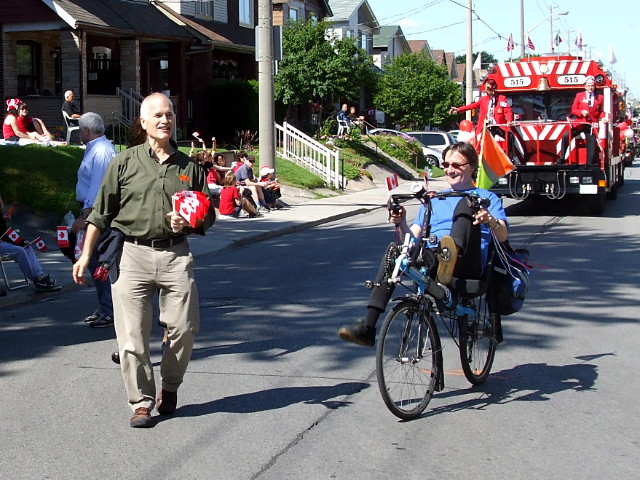 This is how I remember Jack Layton, from the 2010 East York Canada Day Parade. Risa and I were riding in the parade along with the  rest of Ward 29 Bikes and Jack Layton was walking right behind us greeting spectators with a genuine smile and fistful of flags. It was only a few months after he'd revealed his battle against prostate cancer and everyone was  happy to see him in such good spirits, even if he looked a touch haggard. I had a brief conversation with him as we made our way at parade pace down Coxwell; 29 Bikes member Vincent, above, spoke with him longer. Even though I'm sure he'd never heard of us before seeing a gaggle of blue t-shirts in front of him,  he thanked us for doing cycling advocacy work in the riding. He even apologized for not being able to ride his bike in the parade that year. It was hardly necessary.
To say that I'm a cycling advocate because of Jack Layton is overstating the case a little bit. It's more that I'm able to be a cycling advocate thanks to Jack; by having a major hand in Toronto's first tentative steps toward embracing cycling as a form of transportation, Jack certainly made it easier for people like me and the rest of the members of 29 Bikes to come along and take up the cause. A lot of the hard work has already been done, and I'm just trying to see it through.
Don't let them tell you it can't be done. That's a tall order for someone in the cycling advocacy business in Toronto, where "it can't be done" is the standard official response to just about everything. But if I learned anything from Jack, it's that progress requires perseverance.
Thanks for everything, Jack.