Back in the mid-70s, there was big controversy on Brooke Avenue in North York. The owners of 196 Brooke, just east of Avenue Road, wanted to add a second storey to the house to create room for their growing family. It was quite the scandal in this suburban neighbourhood dominated by bungalows.
Petitions circulated in protest and several residents declared that it would mark the end of the neighbourhood as they knew it.
The proposal didn't even include a full second storey addition: the roof peak was only moving up by about six inches. In fact, it was closer to a shed dormer than a second storey, effectively a protrusion from the side of the attic that changed the shape of the roofline but had virtually no impact otherwise.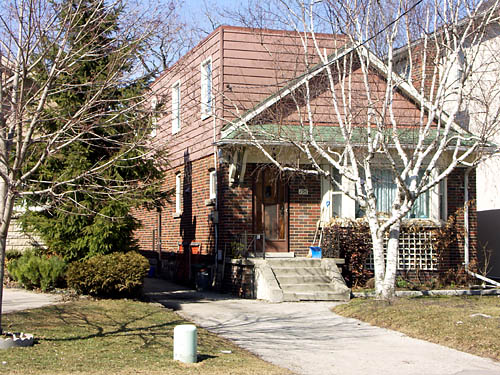 Granted, it's not the prettiest addition ever to grace a house, but it's hard to see what the uproar was about, especially considering that the street already hosted a handful of modest two-storey homes.
My great-grandparents lived a few doors up the street and were virtually alone in their non-opposition to the planned abomination. I remember listening from the kitchen one day when my great-grandmother told one of the petition-toting neighbours that it was none of her business if the family wanted to add to their house. It didn't affect her one way or another and she didn't understand why any of the other neighbours were so pig-headed. Even though the entire neighbourhood seemed to be against the development, North York council allowed the construction anyway.
Thirty years later, Brooke is one of those streets overrun by monster houses. In the block between Avenue Road and Elm Road, only 4 bungalows remain on the north side, surrounded by monster homes built within the last 20 years. A few more bungalows survive on the south side. The original monster house (on the left in the picture below) that caused the uproar 30 years ago now looks tiny compared to the true monsters that line the street.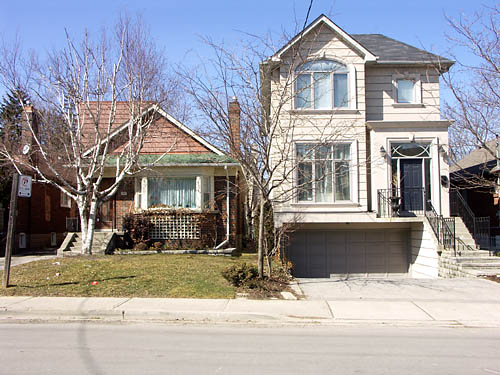 But wait, there's a bonus to this tale: one of the few bungalows left on the block is the one where my great-grandparents lived. The house of the only people who didn't oppose development is among the small handful that haven't since been developed. You can't buy irony that good.