Risa attended a meeting in Niagara-on-the-Lake last weekend and I tagged along for the drive down the QEW so that I could take a walk down an old railway, now the Upper Canada Heritage Trail. It travels about 11 km from the Bruce Trail west of Queenston down to the Waterfront Trail on Lake Ontario. Combined with the first few kilometres of the Bruce Trail from Queenston Heights and the General Brock Trail along the Niagara River, it constitutes a day-long hiking loop over mostly easy terrain. The UCHT would definitely be the quieter side of the loop, especially at this time of year.
Risa tossed me out of the car at the trailhead at York Road and Consession 2 and told me I had three and a half hours to get to Fort George or I'd be walking all the way home. The terrain was about what you'd expect in a rail trail: mostly flat, mostly straight, and mostly running behind farms. A portion of the trail just north of York Road was completely washed out: about 20 metres of the raised railbed had collapsed into a jumbled mess of trees, dirt, and rocks below. The resulting hole is navigable on foot with sturdy boots and a bit of care, but don't expect to pass with your bike or horse. Several large potholes and a subsiding trail leading up to the washout hint that much more of the old railbed here is probably going to collapse in the near future.
The long middle stretch of the trail runs dead straight and flat beside Concession 1 and is a pleasant walk alongside a quiet country road lined by numerous vineyards and orchards. Autumn is usually my favourite time to go hiking but this portion of the trail would probably be much nicer in the late summer with the sights and smells of all the fruit coming into season.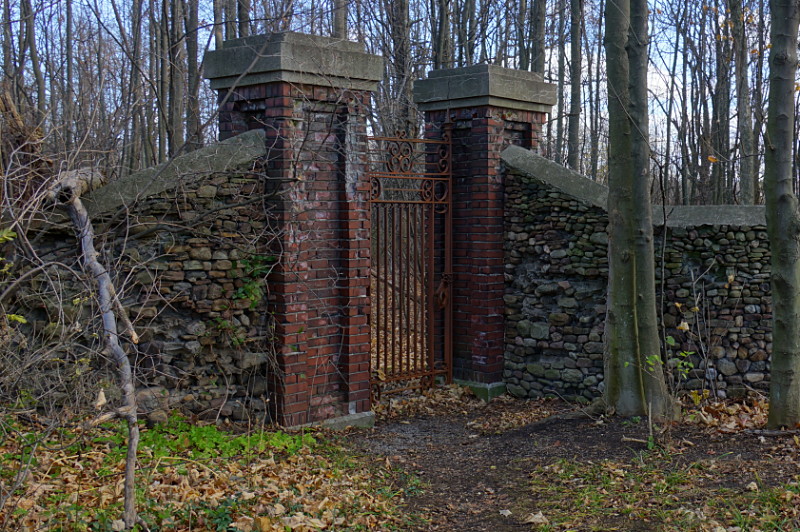 The third section of the trail curves up through suburban Niagara-on-the-Lake heading toward downtown. It feels like more of an urban rail trail, with numerous well-kept backyards opening right up onto the trail. Just imagine having a section of the Bruce Trail literally outside your back door. This section is also home to the most interesting sight on the trail, a long stone wall. It looks long abandoned and neglected at first, but it does still separate private homes from the trail. Numerous sections have fallen down and been replaced by ugly wooden or chain-link fences,  while another portion would have fallen over if it weren't propped up by three large metal beams.
The trail ends at the Waterfront Trail, a short walk away from downtown Niagara-on-the-Lake and Fort George. All in all, it's a nice walk, if not a challenging hike.