I posted about Scarborough's own version of the CN Tower a few weeks ago, which the Summer 2007 issue of Spacing says will soon be torn down. The Scarborough Tower that is, not the CN Tower. Little did I know that the Scarborough Tower was just the beginning.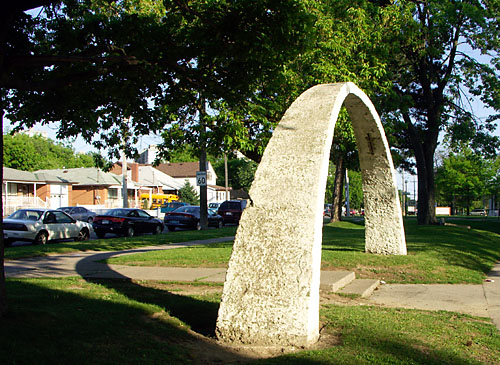 I was delighted to discover recently that Scarborough boasts its own version of St. Louis's Gateway Arch. Rising an impressive 2.5 metres above the pathway on Midland Ave and offering commanding views of the nearby sidewalk, the arch truimphantly marks the symbolic gateway to the Midland Court Apartments and commemorates the relentless Eastward Expansion of the city. (If you look closely at the Google satellite photo, you can see the graceful outline of the arch just to the left of the green arrow in the middle of the map.)
All manner of monuments, attractions, and landmarks dot the Scarborough landscape, many of them recalling the style of more famous brethren. Think Miniature Village without the tourists (much as it was during its final years). Or Las Vegas without the glitz.