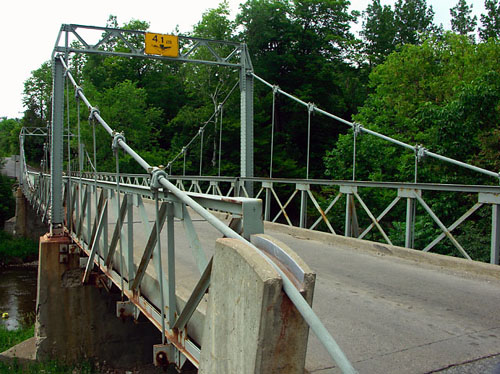 Tucked into the northeast corner of Scarborough near the Zoo, Toronto's only vehicle-carrying suspension bridge straddles the Rouge River. A small handful of other suspension bridges dot the city, but carry only pedestrians and cyclists. Transportation Services was taken by surprise upon my first inquiry and couldn't immediately confirm that this was a true suspension bridge. But John Bryson, Structures and Expressways Manager for the city, verified that it is indeed a "suspension bridge with the side trusses as stabilizers for the deck."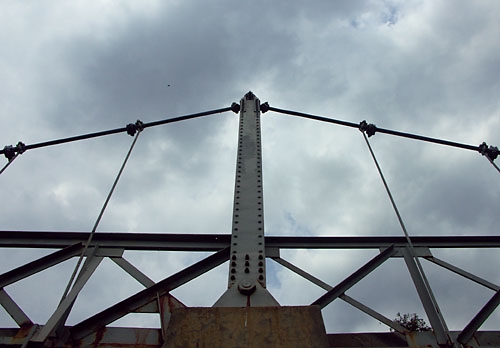 Built in 1912 and one of fewer than 15 bridges listed in Toronto's inventory of heritage properties, the bridge can be seen by traveling through the Scarborough countryside on Sewells Road north from Old Finch or south from Steeles. Transportation Services also told me that the bridge is due for rehabilitation in the near future and that it may need to be altered from its current form. Best get thee to Scarborough to see it before the bean counters and Leon's get their mitts on it.
The local scenery in this corner of the city will make you forget that you're still in Toronto. Unfortunately, the illegally-dumped trash and auto wrecker up the street will remind you that you're still in Scarborough.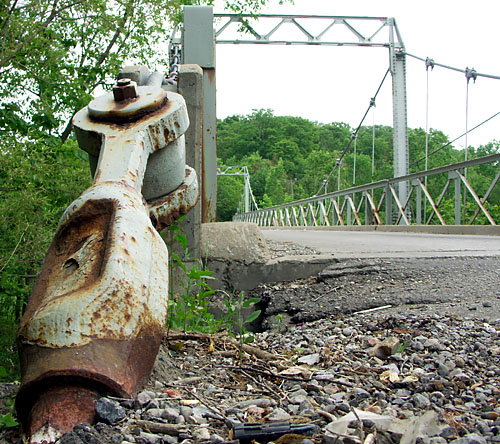 A version of this article originally appeared on Torontoist.