(I liked the headline from my recent Torontoist post on the same subject that I'm reusing it.)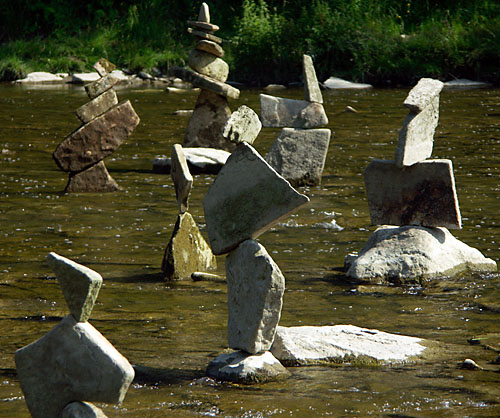 Peter Riedel could hardly have chosen a better location to ply his trade. I've seen rock balancers in the eastern beaches, in the western beaches, and even at the Ex, but this is the first time I've seen one working the Humber River. Literally in the river.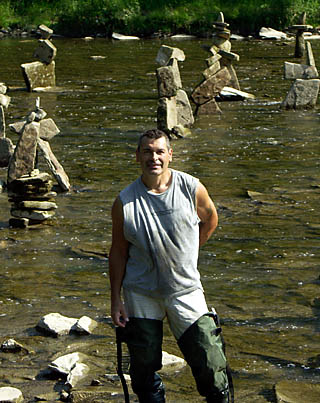 The Humber cascades over a low waterfall in Étienne Brûlé Park before bubbling just a few centimetres deep across a short stretch of river rock. The only sounds here come from the rushing river and picnicking families. Visitors to the park on a busy Sunday afternoon include cyclists, walkers, joggers, and skaters. And then there's the guy crouched in the middle of the river with a rock in his hands, surrounded by some 50 rock towers of every imaginable description.
Riedel, who has been balancing rocks on the Sunnyside Beach seawall for three seasons, recently moved up the Humber to take advantage of the idyllic setting, the abundant raw material, and the permanence the river lends to his work. He found Sunnyside less than ideal with the constant din of nearby traffic on Lake Shore and the Gardiner breaking his concentration and the constant danger that his towers would be toppled by careless passersby and malcontents. In contrast, it's hard to imagine anyone accidentally bumping into a rock tower in the middle of a river.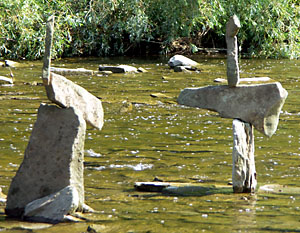 Daryl Maddeaux, who builds impressive towers at the Ex and other special events, once answered a query from the crowd by saying that rock balancing is more about patience than skill, and that anyone could do it. Since then, I've always wanted to try my hand at it. Unfortunately, I'm fairly certain that I don't have the patience. For the moment, I'll settle for the home version I received as a gift last year.

More than 50 towers dotted the river by the time Peter was done that day.

From afar and backlit, the towers look like people standing in the river. Only one of them in the picture above actually is a person.
There's no trickery involved in rock balancing, just patience, skill, and artistry. Maddeaux always makes a point of knocking down his towers at the Ex by lobbing little pebbles at them, to demonstrate that the towers are held together by nothing but gravity and even the slightest shift will topple them. Life, out of balance.
A version of this article originally appeared on Torontoist.