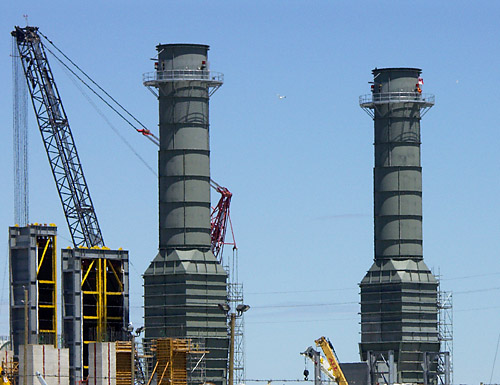 Chernobylesque. For some reason, that's the word that's been stuck in my mind since I took this picture of the stacks rising at the beautiful Portlands Energy Centre last month. It's not even that it looks particularly like a disaster zone. It's just a sensation that the visual evokes. How lucky we are to have it on our waterfront.
Unlike many who are not exactly in love with the PEC, I'm glad that they didn't use the empty Hearn Generating Station to house a new power plant. When the port lands eventually become a community, Hearn will make one kick-ass community centre, market, museum, shopping gallery, or some combination thereof.
If The Powers That Be absolutely must have a new power plant on the waterfront, I'd rather have it in some anonymous steel box that we'll be ecstatic to tear down when the time comes. And honestly, better a new power plant than a new power centre.