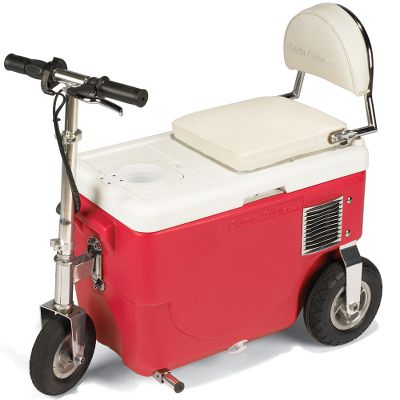 I can't decide whether this beauty from the latest Hammacher Schlemmer catalogue is the best sport utility vehicle ever or a mere curiosity. It doesn't really matter either way, because I really want one.
With a range of 15 miles (24 km), it could handily transport me and my lunch to work on those rare days when I really don't feel like cycling. But I imagine its primary use in my life being for grocery shopping, picnicking, making Risa embarrassed to be seen with me, and impressing the hell out of the neighbours.
A vehicle like this reduces motorized personal transportation to its essence: wheels, an electric motor, and a trunk to carry your stuff. Most people don't need more than that for commuting and running errands. And just imagine the jaws dropping when you steer this sweet ride up to your next tailgate party.
Image from Hammacher Schlemmer.