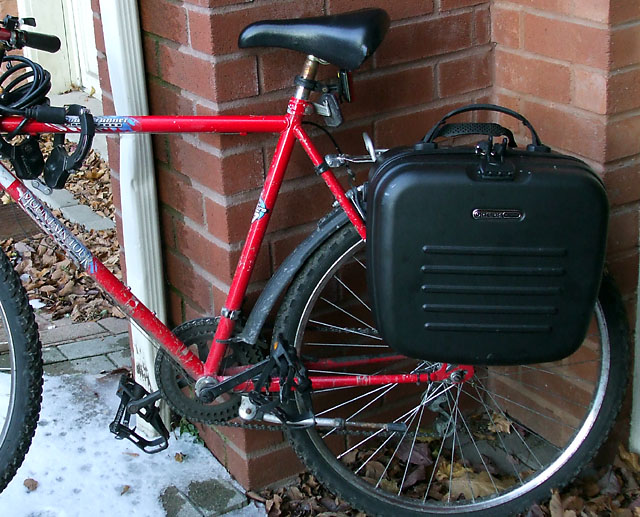 A few recent discussions on other sites have covered the topic of essential gear for commuting by bike in the winter. They've covered the usual suspects of pants, jackets, footwear, lighting and tires, so I won't duplicate that here. But one thing has been conspicuously missing from all of the roundups: panniers. Specifically, waterproof panniers.
I've had a pair of water-resistant panniers for years and learned the hard way one rainy day that "water-resistant" really means "leaks like a sieve when you least want it to." The same goes for my "snow-shedding" backpack. And my raincover-equipped daypack is a little too small to carry all of my commuting gear with me.
When I started carrying my new ultra-portable PC everywhere last month, I knew I'd need something rain- and snow-proof for transporting it on those wet and slushy days through the tail end of the year. It's one thing if my lunch and work shirt get wet in an unexpected storm, but quite another if I have to empty the water out of my hard disk.
After looking at various alternatives, I ended up buying a pair of Ortlieb TourBox semi-rigid waterproof panniers. Velotique was clearing them out and I may have gotten the last two. Most of the other models that I looked at had drybag-style roll tops, and I've never had much confidence in my ability to cinch them down properly. In contrast to drybags, the TourBox looks like a small suitcase—inside and out—and closes with a waterproof zipper. It also features a combination lock (to prevent casual snooping, not theft) and the best quick-release shoulder strap system I've ever seen anywhere.
It seems that it's rained (or snowed, or slushed) virtually every day since I bought my TourBoxen four weeks ago. Having been drenched from both rain and road spray, I can verify that they are absolutely waterproof. I don't think I'd take one swimming with me, but the handle the worst that the city can throw at them.
My only real issue with them is that I wish they were just a little bit larger. Not much, just a couple of centimetres in each dimension. As it is, I can squeeze my rain/cold gear, commuting lights, fully-loaded man purse, change of clothes, and lunch bag into a single 19-litre TourBox, but there's not much room left over for anything else. That said, the squarish shape and full-open zipper make loading easy and efficient, especially for hard or oddly-shaped items that don't much like more traditionally-shaped panniers.
Related: You can make your own waterproof panniers out of cat litter buckets. I first saw something like these about five years ago, but wanted something a little more office-appropriate. Seeing the relatively inexpensive Bikebins in the Winter 2007/2008 MEC catalog got me started investigating waterproof panniers a couple of months ago, but they disappeared from the MEC's website after a couple of weeks and aren't in the stores. I'm not sure why.