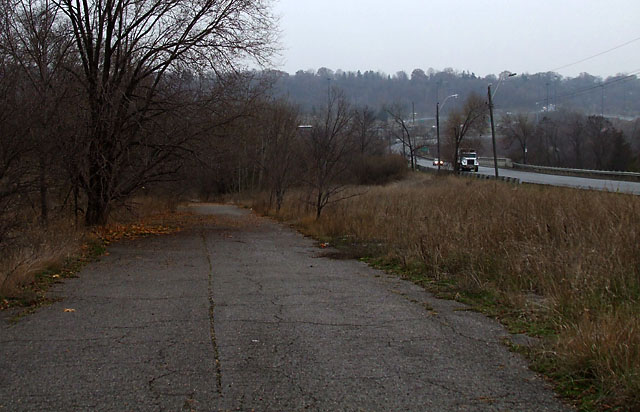 Most people wouldn't associate Toronto with abandoned roads, but a few of them dot the city if you know where to look. One of the better examples is this surviving portion of old Don Mills Road as it climbs north out of the Don Valley. The current Don Mills Road is to the right in the picture above. The original road was realigned and widened in the 1950s to connect the new community of Don Mills to the north with the established community of East York to the south.
The old road was mostly eliminated south of Overlea Boulevard, but a short section about 200 metres long survives more or less intact, just out of view of the thousands of drivers hurrying past. It's currently used by bicycle commuters and local residents as a shortcut into the Don Valley trail system. The trees and weeds encroach on the road a little bit more every year.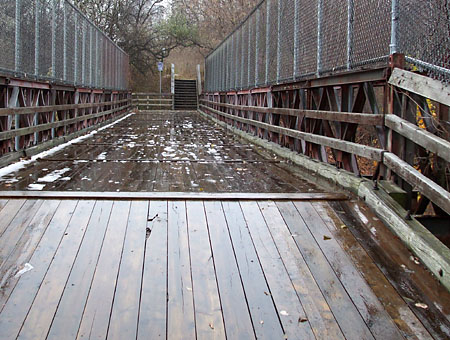 Directly south of here is the single-lane Bailey bridge that carried the road over the CN tracks for a time before being replaced by the modern overpass a few steps to the west. The bridge is still in use as part of the main pedestrian and cyclist route through the Don Valley. If you look closely, you can still make out the name of the manufacturer—England's Appleby-Frodingham Steel Company—on some of the beams.
Continue south across the Bailey bridge and down the hill and you'll come to another bridge that was part of the original road. Visible from the DVP near the Elevated Wetlands, the old concrete bridge still carries vehicular traffic over the East Don River to a small parking lot.
To find old Don Mills Road, walk south on the east side of Don Mills Road from Overlea Boulevard. After the sidewalk ends, follow the narrow dirt path until it curves to the left and takes you to the old roadway. From the south, walk up the stairs from the main park pathway at the northern end of the Bailey bridge.
A version of this article originally appeared on Torontoist.