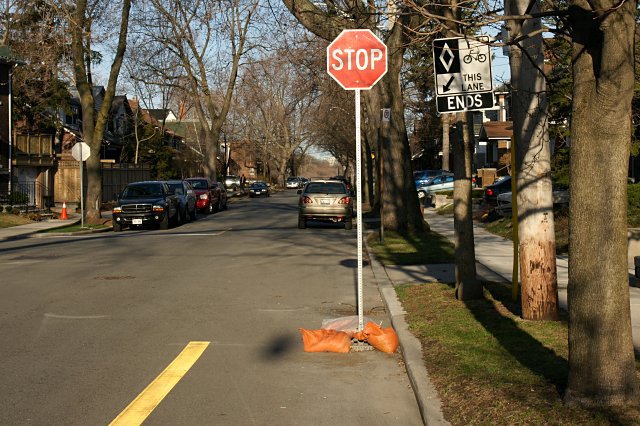 Almost five months after work started, the 70m contra-flow bike lane on Chester Hill Road may be nearing completion. The first sign of progess since the end of November came on Friday, with the erection of a temporary stop sign at the intersection with Cambridge Ave. (above) and the uncovering of the sign at the beginning of the lane.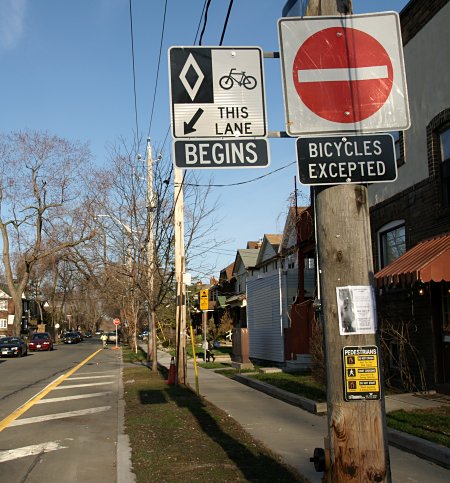 The road still needs to be stencilled, one more sign allowing southbound cyclists on Broadview to turn right onto Chester Hill needs to be installed, and a permanent stop sign needs to be mounted, but any movement is welcome after a long winter of inaction.
As I said in my earlier post, I can't fault Transportation Services for the weather we had this winter, but I still think it's inexcusable that virtually all the bike lane work across the city last year was left until October.
If Adrian Heaps is serious about his pledge of 50 km of bike lanes this year­—reiterated at yesterday's Bike Union meeting—the work is going to have to start a lot sooner and be ongoing throughout the year. That this leftover stub of a lane is seeing attention so soon after the snow disappeared is promising; I really thought that it would languish well into the summer while Transportation Services focussed on fixing potholes after the harsh winter.