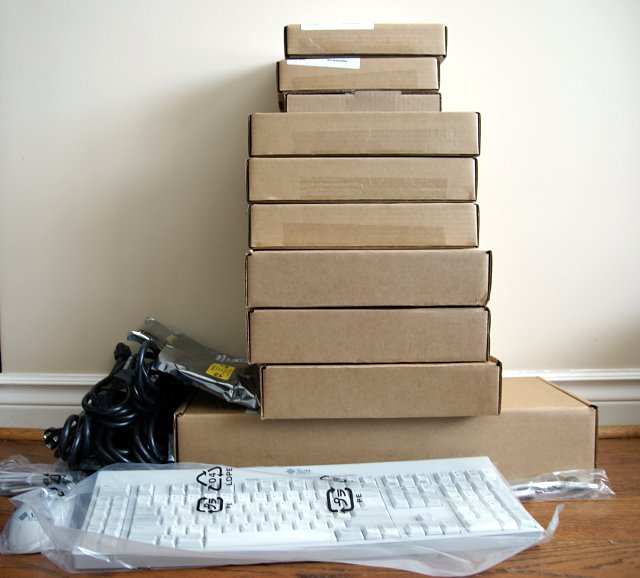 One of the things I love about my day job is getting to play with a lot of technology. One of the things I dislike is that a lot of the technology is packaged very wastefully. The picture above provides a good illustration. Yesterday's shipment included a very large box that opened to reveal the 10 boxes shown here.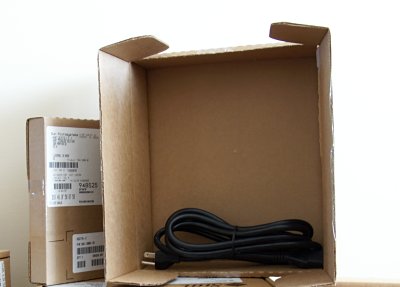 Each of those boxes then opened to reveal a very loosely packed component: five power cords (three of them individually boxed!), a keyboard & mouse, two sticks of RAM, two small internal expansion cards, and three slimline DVD-ROM drives. Everything removed from these boxes is in the little pile on the left in the top picture.
Now I understand why you'd want to put delicate optical drives in a nice sturdy box with foam padding, and why a company with a lot of inventory would value having a few standard-sized boxes instead of a bunch of loose components. I also understand why a company selling servers would want to ship each server and non-standard component separately and have me assemble them.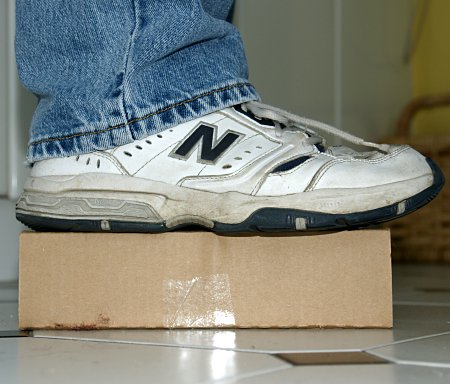 But I'm at a loss to understand why each power cord required its own crush-proof box rated to hold 65 lb and with a burst strength of 200 PSI. When I repacked all this stuff after checking it against the packing slips, it all fit into just one of the pictured boxes with the exception of the keyboard. The rest of the boxes went straight out into the blue bin, having served basically no purpose but to consume space.
Why ship in ten sturdy boxes (plus yet another box to hold all of the boxes) when just two will do? Why does each individual power cord need to be shipped in a separate box that a fully-ballasted man can stand on without crushing it? I'm sure the answer is "efficiency," but I'm not seeing it.