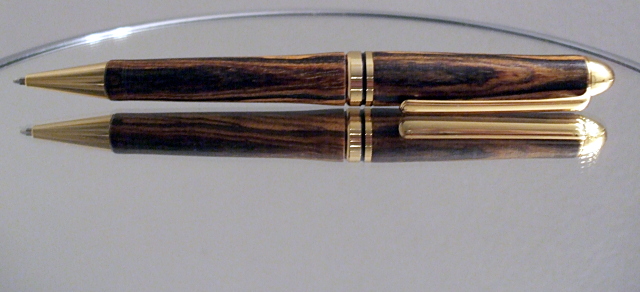 But I took a pen-turning seminar anyway, and made this pen at it last weekend. It's made of bocote. It came out far better than I thought it would. It has flaws, but as its proud father I've naturally chosen to overlook them and declare it the best pen ever.
I've been interested in turning pens for some time now, but have always been a little confused by the process. And despite being quite comfortable in a wood shop, I've never really used a lathe before. All that talk of mandrels and gouges always leaves me confused. The seminar was a learning experience on both fronts, making me more comfortable on a small lathe and with the process of making a pen.
Fair warning: if you're reading this and I normally give you a Christmas (Hanukkah, Festivus, etc.) present, chances are pretty good that you'll be getting a one-of-a-kind pen this year.
I've begun spending more time in the shop again and will have another post about a slightly bigger, bike-related project soon.