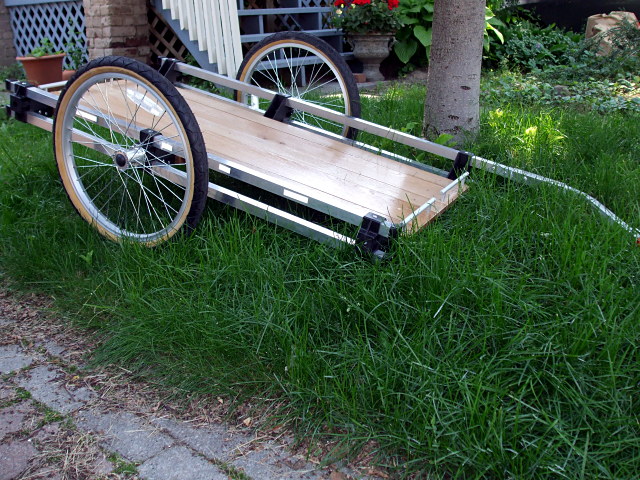 I mentioned a couple of months ago that I was looking for a new flatbed trailer to augment my BOB Yak for use in the city.  Armed with my requirements, I headed down to Urbane Cyclist, fully expecting to ride away from the store with a new Burley Flatbed or equivalent. But after considering the options and talking to the staff about my needs, they recommended that I either get a DIY trailer kit from Wike and build my own trailer, or call Wike and get a custom trailer built to my specifications. I opted for the former, and am really happy with the result.
It's done duty twice so far: its inaugural trip was ably carrying three Rubbermaid totes crammed full with much of the equipment and materials required for the Ward 29 Bikes meeting two weeks ago, and it pulled 80 lb of cat litter home last weekend. It's big enough to be used for flats of flowers, bags of soil, and many other large or awkward loads that would have overwhelmed or overflowed my Yak.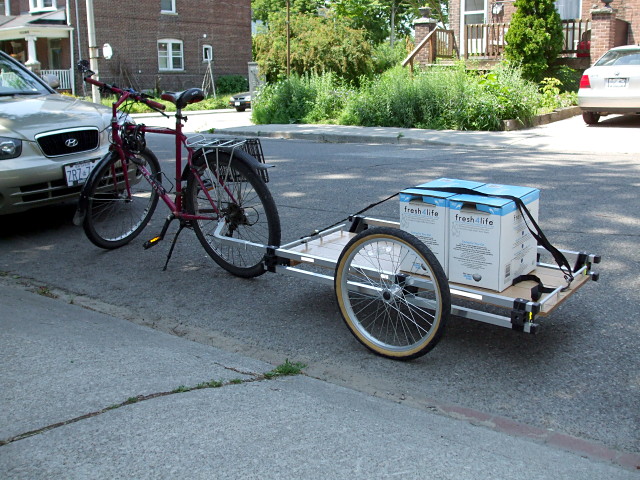 Read below the fold for more details about the construction.

Requirements
My requirements were actually fairly simple: I wanted a large flatbed trailer that could take virtually any odd-sized load that I'd want to throw on it. The two specific applications I had in mind were carting home a rain barrel from one of the city's Community Environment Days, and hauling a good-sized load to the local Goodwill. A larger trailer would also be handy for many other regular tasks: fetching bags of cat litter, bringing home flowers and plants at the beginning of gardening season, and carrying most large purchases that I'd otherwise have delivered. My BOB Yak can do some of those things, but it's better suited to long-haul riding rather than carrying random loads of stuff around the city.
All of the flatbeds I saw at Urbane were smaller than I would have liked. The Burley Flatbed was closest, but it still wasn't quite what I was after. So I ordered the Wike DIY kit the next day and started work.
Design
I considered a few layouts before picking my final size: 2′ x 4′. That's big enough to hold three of those ubiquitous Rubbermaid Roughneck totes. I'd originally hoped for a trailer big enough to hold four totes, but it would have been huge and far less practical for smaller loads.
Materials
In addition to the Wike kit, I used the following materials:
1″ square aluminum tubes:
3x 48″ for the sides
1x 53″ for the side piece that connects to the tow bar
3x 24″ for the crosspieces
5x Red oak slats, each roughly 5/8″ x 3″ x 48″
3x Red oak crosspieces, each roughly 3/4″ x 1″ x 20″
50x pop rivets (could also have used bolts or self-tapping screws)
6x #10×1-1/2″ self-tapping screws
7x end caps for the aluminum bars
4x 160mm aluminum bar handles for front and rear tiedowns
Tools
Power driver (optional, but it'll make your life much easier)

Drill press (optional)
Screwdriver, rivet tool, and/or wrench to drive your chosen fasteners
Gotchas
Building the kit is fairly straight-forward, but I'll offer tips based on my experience:
The documentation with the kit recommends making the arm that connects to the tow bar 8-12″ longer than the others. About 3-5″ in addition to the supplied tow bar is more reasonable. Do a dry fit and make sure that your rear wheel has adequate clearance.
If you don't have a drill press, just use #8 or #10 self-tapping screws instead of pop rivets. I wanted the cleaner look of rivets, but I'm not sure about how durable they'll be. If they start shearing, I'll replace them with self-tapping screws.
I had to grind down the tang on the tow bar supplied with the kit so that it would fit into the tubes that I bought.
1″ square aluminum tubes should be available at any halfway decent hardware store. I got mine at my semi-local Metal Supermarket. They cut your order to length for free and I didn't need to make any adjustments to their cuts.
Depending on the material and finishing touches you use, you can have a large custom cargo trailer for under $200. The kit saved me many hours I would have needed to spend in the shop if I was building the trailer from scratch.
Here's a partial gallery showing the building process and result.