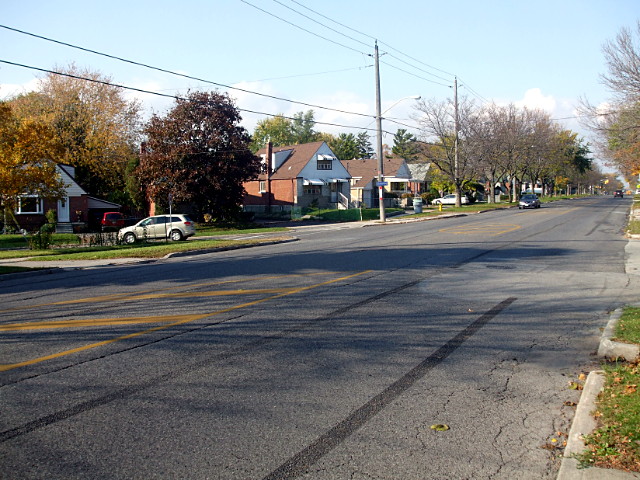 The bike lane was removed from Pharmacy Ave last month. As someone who rides regularly along Pharmacy as an alternative to Warden and Victoria Park, I think the city, driven by the misguided local councillor Michelle Berardinetti, made a big mistake taking it out. But what's even worse than taking out the lane is the way that they did it. Before the bike lane was originally put in, Pharmacy was four lanes wide. When the bike lanes were painted, Pharmacy went from four lanes to…four lanes: two bike lanes and two vehicular lanes. The reconfiguration also allowed painting of a centre median and the creation of left-turn lanes at every intersection. So in places, there were actually five lanes.
When the city took out the bike lanes, it would have made sense to configure the street as it had been originally, with four traffic lanes and no turn lanes. Instead, they simply erased the bike markings, retained the centre striping, and reduced Pharmacy to a single lane in each direction. The current configuration has absolutely zero benefit to anyone over the configuration with bike lanes.
Confused, I emailed Councillor Berardinetti earlier this week to ask whether the road would be restored to four lanes or left as-is, and this was her reply:
Operation crews promised that the full restorative work would be complete by the end of this month. However, given the colder November nights and shortage of equipment, city staff are indicating that the work will now only be complete at the onset of spring.

Having said all that, we are all glad [Ed. note: actually, "we all" are not glad] that the lanes are going back to their original state but if the work could not be done at a single time, then they would have been better off leaving everything as was until the spring.
So the lanes were removed this fall for, really, no reason whatsoever.
In a followup email, I asked the councillor if she could recommend an alternative north-south cycling route to access the businesses on and around Eglinton. No answer yet. If she (or a staffer) took the time to look at a map to try to answer my question, she'd have seen that there is no such beast.