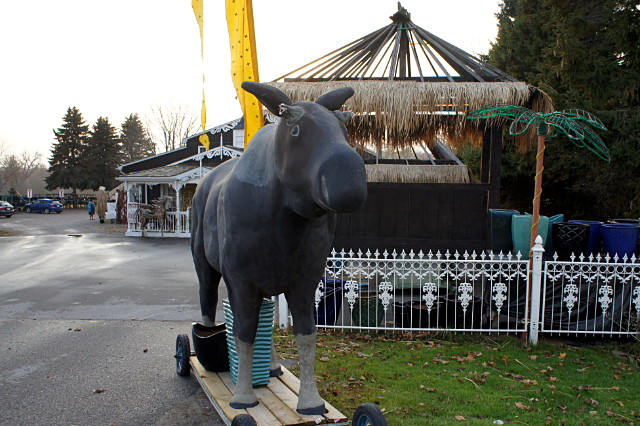 Last seen in their native habitat in Y2K, the Toronto Moose continue to pop up in all kinds of unexpected places. This one guards the tiki huts, (fake) palm trees, and teak carvings of…Port Hope? Standing guard at the entrance to Primitive Designs in Port Hope, this moose migrated here by way of Pickering, where it resided for a number of years before being bought earlier this year by Primitive Designs owner Ron Dacey. Unfortunately, I can't tell which moose this was; I can't find a matching mug shot in the City of Toronto's mooseum gallery. Either it's one of the missing portraits or (more likely) it's been repainted since leaving the big city.
Ron wasn't around when I popped by for a visit this week, but staff were split 2-1 on whether the moose was even for sale, never mind the asking price. Majority opinion was that Ron likes it too much to sell it just yet. But everything has a price, especially in retail.
Related: A number of Toronto Moose still dot the city. I've written about two of them.