Dodge's first rule of hiking is that you will finish a roll of film just before a deer bounds across your path. The first rule was deprecated about ten years ago. The second rule of hiking is that if you bring a lot of X you won't need any of it, but if you bring just a little or no X at all, you won't have enough (where X is anything that you put into or take out of your daypack). The second rule is still in force. The third rule states that on the first hike you take with a brand new pair of boots, you will end up sinking in mud halfway up your shins. The left boot, above, went in first. The right boot, below, was sacrificed so that I could pull the left boot back out.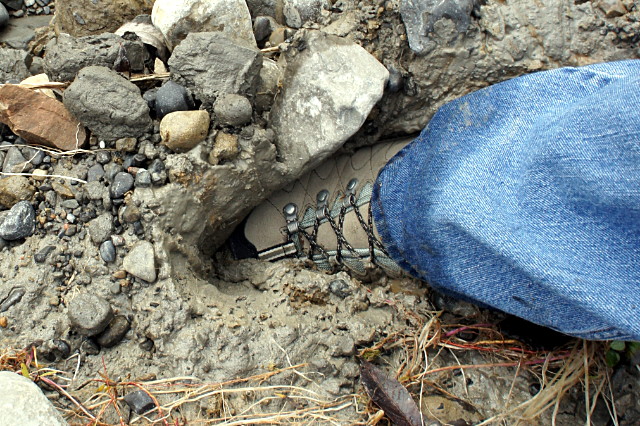 So much for a light hike to break them in.
In all seriousness, safety is the first rule of hiking and muck like this at the base of a sheer cliff is enough to turn me around. I was walking across the base of a hill that was obviously supersaturated and unstable. Well, it became obvious once my first step sank straight into what looked like hard-packed dirt. I could tell there had been a recent slide on the hill above but once I pulled my boots out and surveyed the scene again, it wasn't clear whether the slide was six months or six minutes earlier. As I stood there, I could see a few small stones and clumps of mud falling one by one from the top of the hill and decided that this just wasn't a good place to be contemplating a way forward.
Also on sober second thought, the interesting water patterns in the soil on the hill probably indicate a certain level of instability: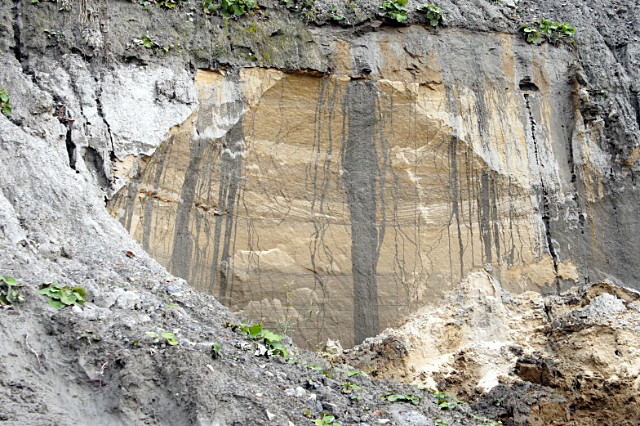 I'm sure that if I'd gotten close enough to touch that part of the cliff, it would have been just as soft as the muck I stepped in.
The tough part about turning back here was that my destination was only about 300 metres on the other side. I'd already caught a glimpse of it. If I could have navigated the 30 metres or so of this muck, I would have been there in less than five minutes. There was only one other possible path that would have allowed me to get there from my chosen starting point this day, and it was across the top edge of this very same hill. Sadly, I'd already tried traversing the top before thinking that going across the bottom might work better. Next time I'll heed Dodge's second rule of hiking and bring the hip waders for a river crossing to guarantee that I'll find a nice easy overland route to my target.