One of the wonderful ways to pass an afternoon at the Toronto Archives is browsing through the aerial photographs of the city. You get a real sense of how the city grew from year to year, swallowing productive farmland at virtually every step.
The photos here show the relentless march of progress in a section of the city around York Mills Collegiate.
1950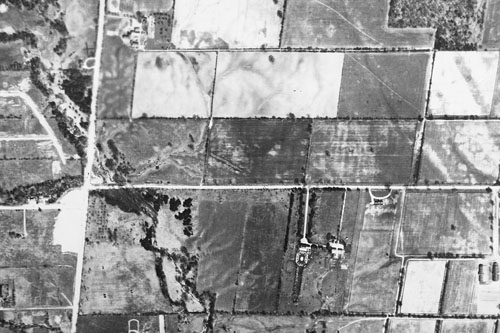 It's still all farmland in 1950. The main intersection at the left is York Mills & Bayview. That's Wilket Creek flowing through the intersection. York Mills Collegiate will soon be built at the right side of the picture, in the farm field directly north of the little half-circle driveway on York Mills.
1957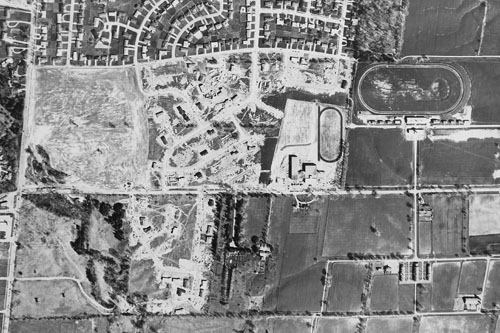 Construction of York Mills Collegiate is almost finished just to the right of centre, across from the semi-circular driveway. The athletic track is oriented north-south. You can see the subdivisions that have already popped up to the north, with more under construction to the west. I believe that the big oval track in the top right corner is part of Windfields Farm, founded by E.P. Taylor. The famed home of the equally famed Northern Dancer would survive the suburban onslaught for several more years.
1963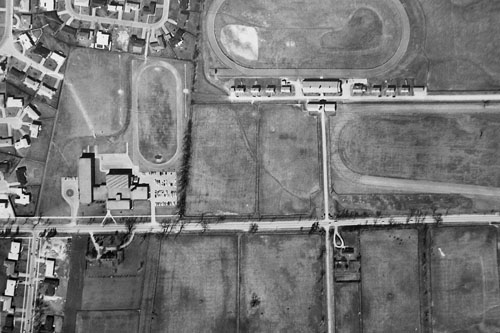 The suburbs are still growing to the west and south of the school, the Windfields track is still to the east.
1973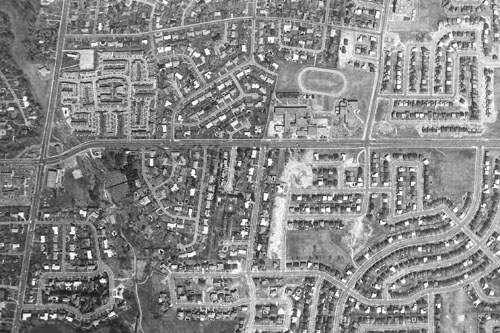 Subdivisions quickly took over following Taylor's sale of most of the Windfields lands to developers in 1968. The school needed a substantial addition to handle the larger student population delivered by the new communities, and the athletic track was re-oriented east-west to make room for the larger building. École secondaire Étienne-Brûlé has also been built just to the east of York Mills Collegiate. Although the dry valley is still there, Wilket Creek had been turned into an underground storm sewer north of York Mills by this time. In barely 20 years, the area had completely changed from rural to suburban.