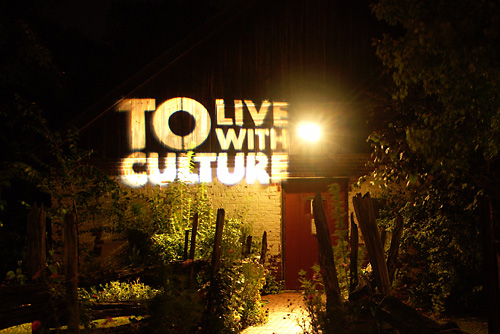 Risa and I went to an interesting little event at Todmorden Mills Saturday night called Dark. Think a kind of mini-Nuit Blanche at a half-dozen locations within one site and you get the idea.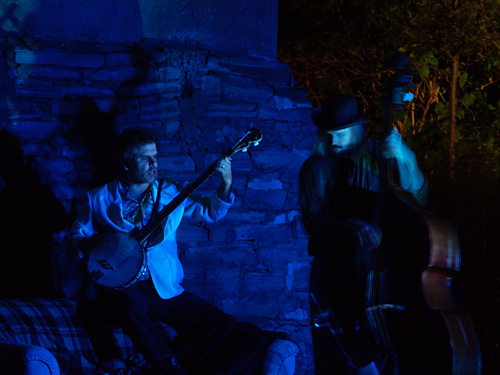 While the concept was solid and the performers talented, the result was a little hit and miss thanks to some questionable decisions made by the organizers. The primary problem from our perspective was that none of the outdoor performances were amplified. With the always-busy Don Valley Parkway only 100 metres away, it was difficult at best to hear Sean Dixon (above, with banjo) and his partner playing. Adding to the noise problem were cars passing over the bridge from the parking lot. They invariably ran over a loose metal plate at the far end making a percussive ka-chunk! just out of beat with the music. The setting—in the old Don River channel before it was diverted to make room for the Parkway—couldn't have been nicer, though.
Similarly, Melissa D'Agostino's entertaining one-woman turn as an immigrant casting off her baggage at the train station was all but drowned out by the large diesel generator placed just behind her audience.
Even a couple of small amplifiers would have made a big difference in both cases. I'm sure that the organizers felt that microphones and speakers would have made the performances less intimate. That view is certainly valid, but please lose the generator and traffic on the DVP next time. Maybe the event could be held during one of the Parkway's scheduled maintenance shutdowns, and the generator could be moved further away from the crowd.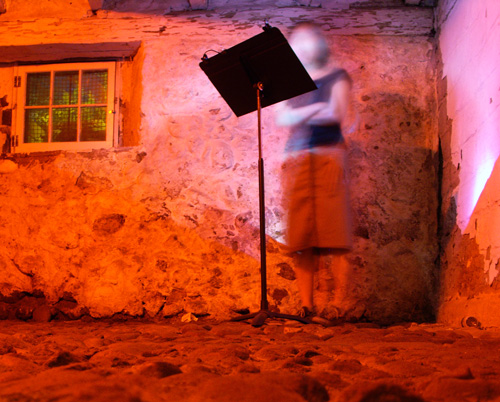 Elyne Quan (above, in a 25 second exposure) gave an emotional reading of a new piece in the basement of the Helliwell House, lit only by a single red compact fluorescent bulb and the LEDs on her copy stand. This performance did not need amplification, but some air conditioning would have been appreciated. I'd have liked more time to explore the rough stone-floored basement, which isn't normally open to the public.
Other performances included comedy, dance, and theatre spread around the grounds, including performances in the old Don train station and the Wildflower Preserve. Overall, it was an interesting event that shows promise for future editions. I hope the organizers take some lessons from the inaugural attempt.