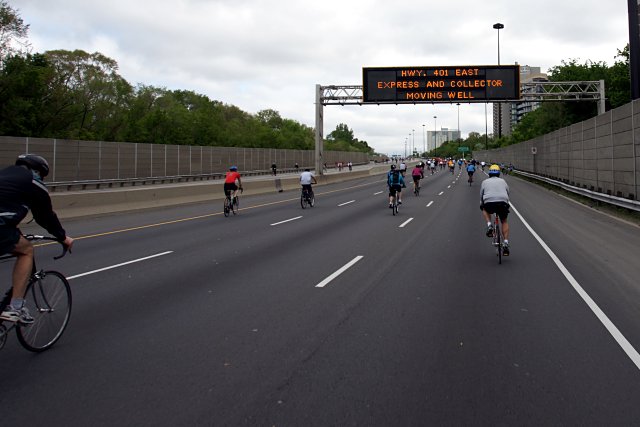 After years of stubbornly refusing to wake up at 5 a.m. on a Sunday morning, I finally made it out to the Ride for Heart today. I thought it went fairly smoothly. I got to Exhibition Place just before 6:30 a.m. and settled into the starting chute for the 75 km ride at 6:32, about 15 minutes before the scheduled start. Quite a number of late arrivals rode along the adjacent sidewalk or lawn to get to the front instead of taking up their spots at the end of the line. Nice.
Although well within my range once I'm in cycling shape for the year, today's total ride length of 98 km (including 23 km round-trip from home to the starting/finish line) over four and a half hours was two hours and 40 km longer than I'd gone since October. You betcha I'm sore. But it's a good sore. And next weekend, I'll ride farther.
Right at the front of the starting chute was a large group of riders who raced the entire 75 km. I don't know who won, but I do know that the peloton (and its police escort) lapped me around the 40 km mark.
I was surprised by the number of people who got flat tires or were injured along the ride. I stopped to ask at least a dozen people with flats if they needed assistance (one of the moral duties of those who carry tool kits), but they all waved me on. Injuries along the route included a guy who was screaming in pain as he was hoisted onto an ambulance stretcher, a woman with a nasty gash on her head, several other people receiving roadside attention from paramedics, and at least two other ambulance sightings. All but one of the injuries I saw were on straight sections of the track, and the course wasn't really that crowded after the start. Another guy was walking with his bike tilted up on the rear wheel, the badly twisted front wheel hanging uselessly in the air.
While I was pondering the causes of all the accidents, a woman passed me on the right, looked back at me as her rear wheel slowly drew even with my front, said, "Passing on the left," and then cut right into my wheel. I would almost certainly have joined the injured if I hadn't braked in time or if someone had been behind me. Just goes to show you that idiots drive all kinds of vehicles.
It was good to finally get out to this event, although it felt a bit like Friday's Big Critical Mass Adventure took the wind out of some of the novelty.