Today was the Community Environment Day in Ward 29, brought to you by Councillor Case Ootes. It's the first time I've been to the event in this ward, having lived in neighbouring Ward 31 until a couple of years ago.
I wanted to make a point to Councillor Ootes, so decided to take my load consisting of several old cans of paint, a number of expired batteries, a dozen ink jet cartridges, an old cell phone, and a bucket of used syringes (courtesy of my diabetic cat) to the event by bike. This would be especially easy for me since the drop-off point was directly accessible from Ootes's pet project, the Cosburn Ave bike lanes. My decision was also helped by the fact that Risa was out with the car today.
I planned to drop off my stuff and then track down Ootes to get the typical "smiling politician" picture of him with my bike.
So I loaded up my trusty BOB Yak trailer and set out.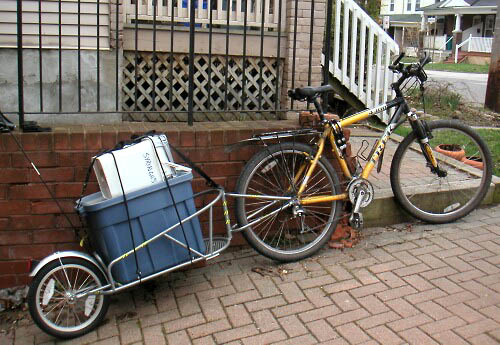 I arrived at the Environment Day drop-off about 10 minutes later, and several cheerful employees helped me unload all of my goods. I then set out to look for Case Ootes, but couldn't find him. No one I asked had seen him either. If he'd been there at all, it was probably just long enough for a photo op.
So much for my plan. And so much for the picture of Ootes propping up my bike that was supposed to accompany this blog entry.
Was it unreasonable to expect to see him there? Do other councillors attend (and stay at) their Environment Days to schmooze with their constituents? I guess I was spoiled by my attendance at Janet Davis's Community Environment Day in Ward 31 in previous years. Not only was she there, but she also had live music and other amusements to create a friendly atmosphere. No such luck in Ward 29, unless you count the Tim Horton's tent and the free hot dogs (sold out by the time I got there at noon).