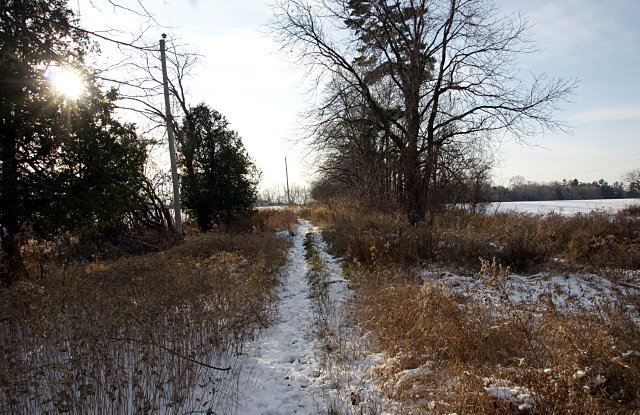 Passmore Avenue looking west from west of Beare Road.
If you're familiar with Passmore Avenue in Scarborough at all, it's probably as an unremarkable industrial street that runs in two discontinuous sections between Kennedy Road and Markham Road. But along with the rest of the concession roads in Scarborough, it long predates suburbia: it was laid out and cleared in the 1800s. On an 1878 map, Passmore (then known only as Concession Road 5) stretched 14 km clear across the township of Scarborough with only three short sections missing where the road would have crossed the Rouge River. More modern maps and aerial photos show that Passmore remained a country road crossing Scarborough well into the 1960s, when portions of it started falling to suburban development or neglect.
Although the Passmore name has virtually disappeared over the last 50 years as Scarborough grew from farming township into a suburb, most of the original route still carves its way through the former borough. West of Markham Road, the original road allowance is given over to portions of more than a dozen different suburban roads and park pathways that trace the old road, starting with Gordon Baker Road in the west and continuing to Ketchum Place near Middlefield Road. Drivers can't follow the entire road thanks to all of the twisty-weavy suburban streets, but multi-use paths directly connect the whole route (except for one block) to allow a continuous 8 km long suburban walking or cycling tour along the old right of way from Victoria Park Avenue to beyond Markham Road. There's no physical evidence of the original road here other than the straight route through the heart of suburbia.
East of Markham Road, Passmore was never much more than a dirt road through the countryside. Except for three very short half-blocks that still exist, most of it no longer appears on maps and has dropped off the municipal street grid. Yet the old road allowance remains largely open to intrepid hikers in this rural corner of the city. The most accessible portion of Passmore Avenue runs between Gordon Murison Lane and Beare Road, where a line of utility poles stands guard over the old dirt road as it dips into a small valley, passes farm fields on either side, and crosses a small tributary of the Rouge River before climbing back up a low hill at the other end.
A partial tour of the eastern half of Passmore and more photos are below the fold.